BLED: Beautiful, Lovely, Expensive, Diverse
My girlfriend and I just spent a long weekend in Bled, Slovenia. As I was travelling with my brother only for nearly a whole month and just returned, this was really all about a "couple vacation", just to spend quality time together.
A few months ago, while planning my Russia trip, I was also aware that leaving my girlfriend behind might be quite hard and challenging, and to be sure we are ok I thought about a vacation just after my trip. By coincident I found an attractive voucher for a Luxury Hotel in Bled, with a direct view to the lake, and by reading through the voucher's description I was sure Yep, this is it.
I bought it and arranged the stay for the first weekend in June, 3 Nights/4 Days.
The drive was quite ok, with only small delays in Bled directly, and once arrived we were both amazed by the first impressions. A beautiful landscape, a lovely lake with an island in the middle and a church on it.
We checked in at the Hotel, Hotel Triglav Bled (book now via this link and safe up to 15€!Booking (affiliate link)), and got greeted and supported by a very friendly receptionist lady. Her English was perfect, and I think she could also speak German but we didn't try. She explained us the regular stuff, like Breakfast times, checkout, hotel specials etc., and we were asked if we want some tourist information. She really took time and once I said I love photography, she showed me the best spots on the map and also provided us a lot of other valuable information.
Once in the room, quite small but itself perfect, in a very good condition and a 100% clean! I think you could dare to eat from the floor. Tough we have just been in the first floor; the view was amazing but just a bit hindered by a tree right in front of our balcony.
First we just planned a walk around our area, but in the end, we walked around the whole lake, passing by a lot of fishermen, the official beach area but also other places, where people were swimming (it seems to be allowed everywhere). The water was a mixture between colorless and blue with a slight green – like the sea! Easy to see the ground on depths more than even 4 meters, fishes and all around everything very clean.
At the half of the way around the lake we decided for a drink, and by coincident we ended up in the summer residence of Tito, the first president of Yugoslavia; a building half-built into the mountain, with a direct view to the church in the middle of the lake. Basically it is a big room, with a very nice terrace. Also outside of the building there is a viewpoint with a lot of tables of the restaurant.
Tito's summer residence, outside: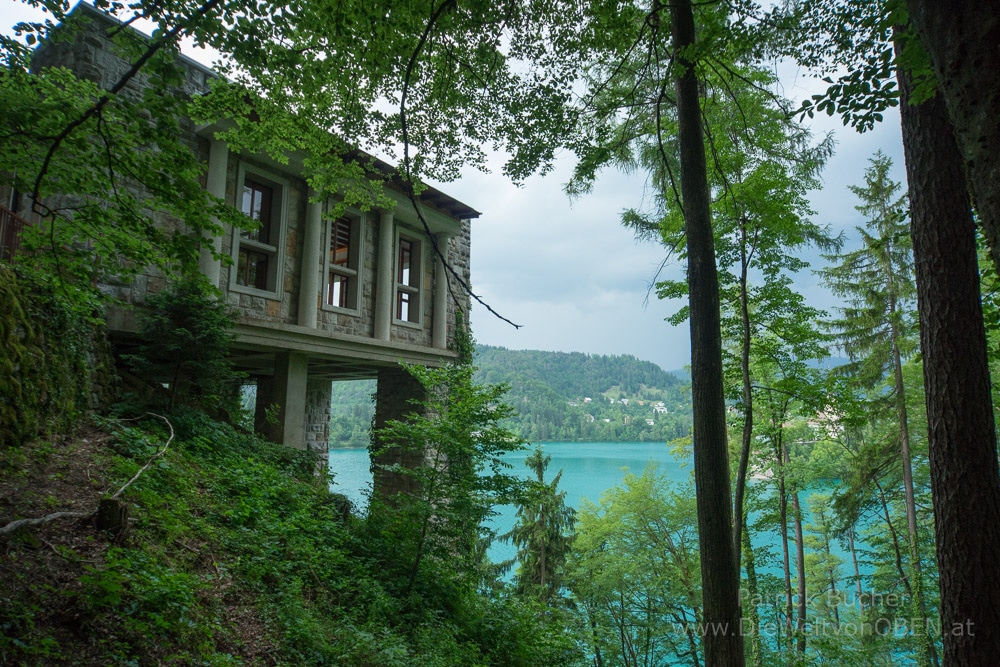 Tito's summer residence, inside: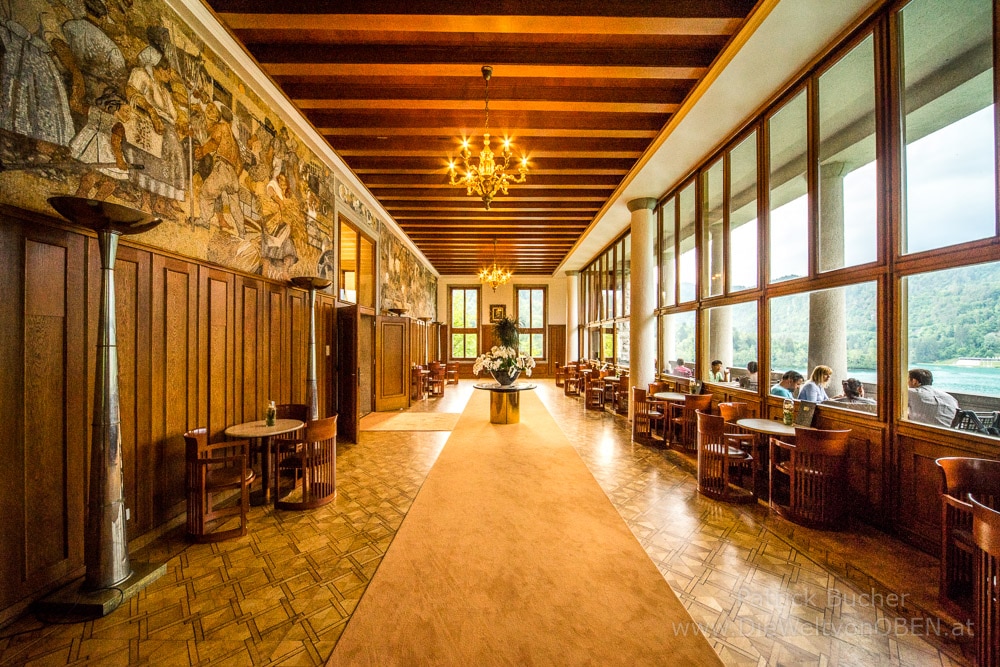 The view from the restaurant from Tito's residence:

We then continued our tour, grabbed some fast-food, visited the "Casino Bled", which is quite small but can still be fun and finished the day around midnight.
Day 2: Hiking to wonderful viewpoints and a visit to a middle-age festival
We had breakfast around 9am, and to be honest, by the first sight, I got a little disappointed. But as it turned out later, it is small but top quality! The sausages were delicious, the bread, vegetables and fruits fresh and the coffee was also very good. The eggs, however you want them to be prepared, will be made completely fresh for you, like omelet, scrambled eggs, fried eggs, cooked eggs or pancakes. Delicious.
Viewpoint 1: Ojstrica
The heat burned down already at around 11 when we began our tour. We first visited the Velika ojstrica, and the hike up was a bit challenging actually. At some parts, we even used our hands to hold ourselves at the rocky way up (just to mention, we got told that the road is supposed to be very easy.. well, we thought we are sporty but this was definitely not easy 😊 )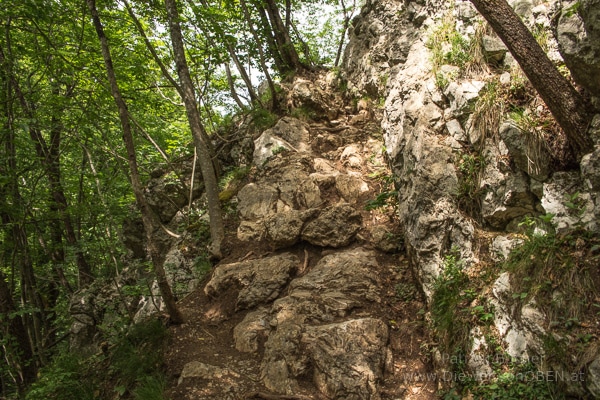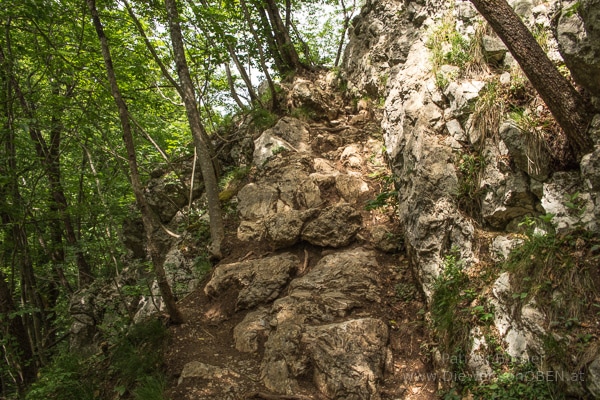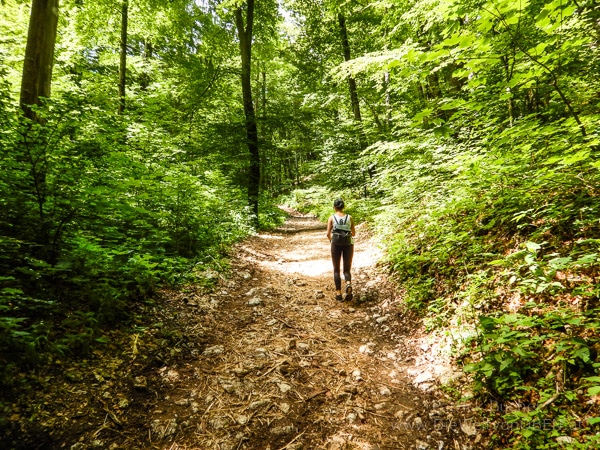 Once up there, heart bit at 200 bps and quite dizzy, it just felt so good. A handful of other tourists were up, enjoying the view and taking pictures.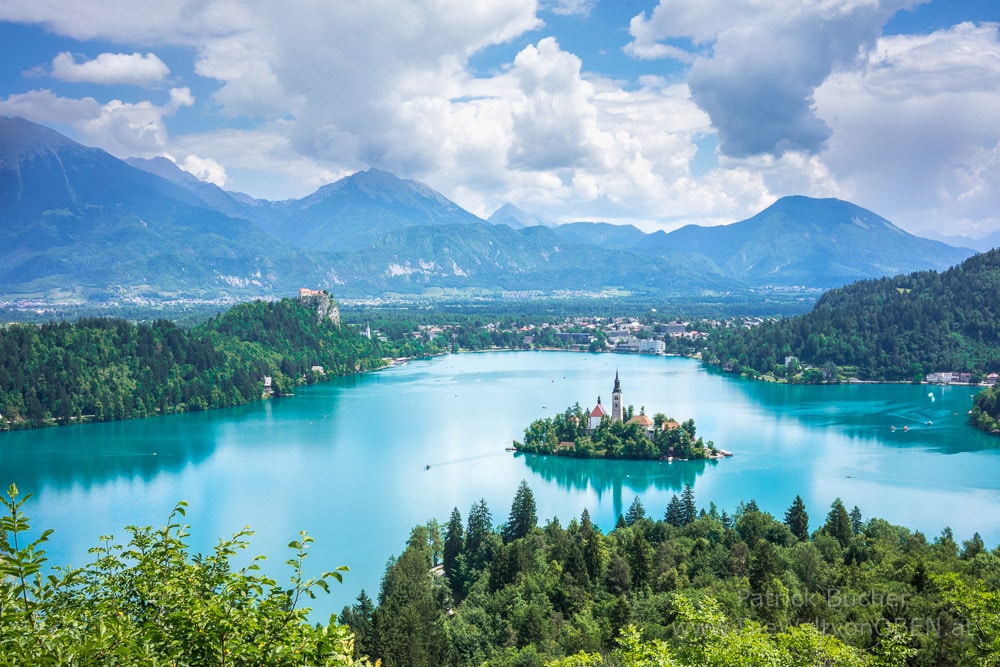 I think we spent 45 minutes up there, just enjoying and taking pictures before we continued our hike.
Viewpoint 2: Velika Osojnica
We were quite high on the first viewpoint; however, the second one was much higher. The hike was mainly in the forest this time, with only a few rocks on the way, but the signs and marks could have been done better. Due to the lack of the signs we might came off track for some time, however we successfully found the spot with an awesome view! It was easy to see that we were at the double height compared to the previous point, and also there we spent quite some time and took lots of photos. We have been the only ones up there and didn't see any other tourists, nor on the way. Sad for them, because they missed something beautiful. 😊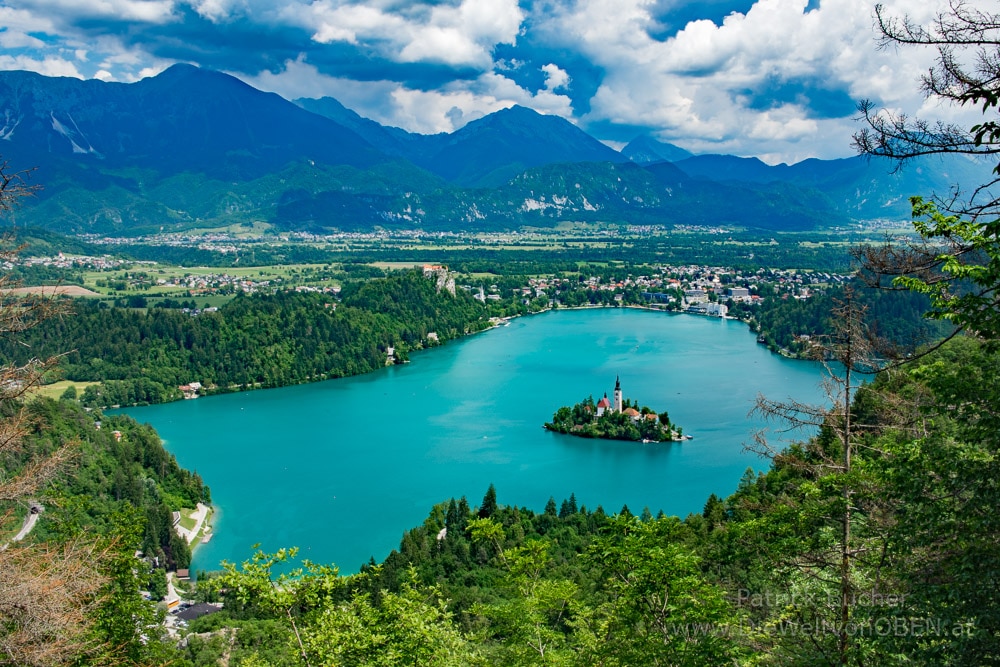 Viewpoint 3: Mala Osojnica
Velika means big or large, "Mala" means small or tiny. As you could guess by the name, the "mala Osojnica" viewpoint was at a lower point, so we walked the way half back down and got on the way to our last viewpoint during this hike. It was a quite easy trail then, and this seems like the most touristic viewpoint since there have been some pictures and other information to explain something about Bled and its history just there. We were very lucky and had enough time to take great pictures, just before a bus full of Croatian tourists came across and hiked another way up to this location.


In the evening, we visited the "Bled castle" where a middle age party took place. A lot of activities, mostly for children, but also a couple of shows, so we enjoyed some fire-knights, fighting with swords on fire, had a few beers and half of a grilled chicken before we walked back home. On the way, we checked out a quite fancy bar, and so we had the cheapest beer, 4.5€ for a 0.3l bottle. Not cheap at all.
Day 3: Waterfall "slap savica" and swimming
The next day meant another hike, so just after breakfast we drove with our car to the national park "Triglav". The streets shortly before the arrival were quite tiny, so a couple of times we had to stop and let coming cars pass us, but it was ok. The parking fee was 3€, the entrance also 3€ per person, but it was worth it! It was a very easy hike (this time really!), everything prepared with concrete stairs, so it is very easy for untrained people as well. The way is nothing special, quite far away from the water but very nice anyway, with a rocky forest surrounding you. Also the view is very nice at some parts of the way. Arrived at the waterfall, dozens of people taking pictures, selfies or were dreaming by the beautiful sight and the impressive sound this waterfall provides.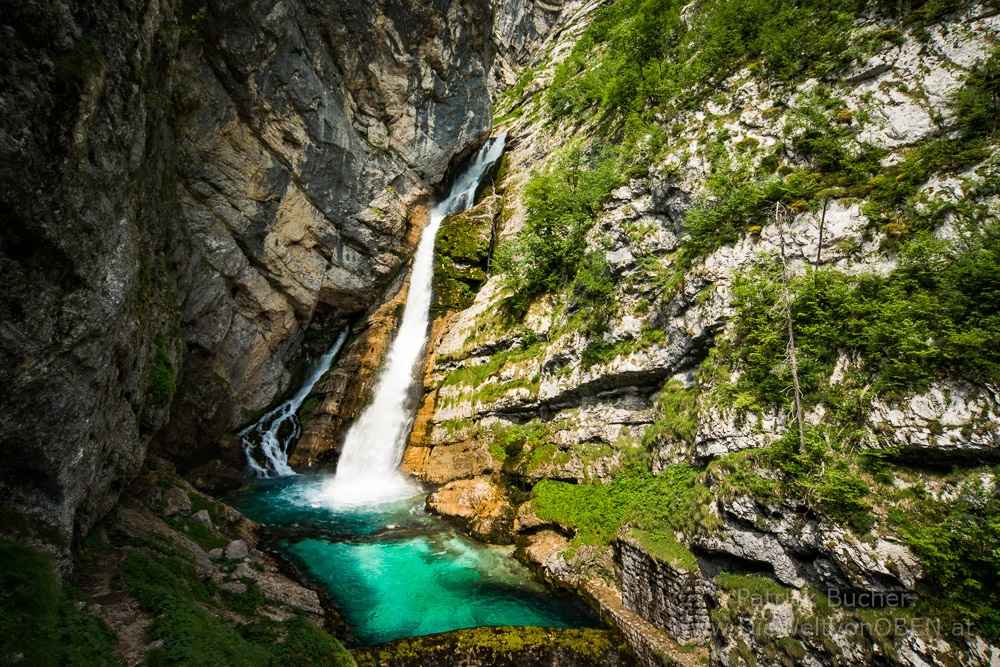 Later, we went for a swim in the lake Bohinj but since it was quite cloudy and windy we soon started our way back to Bled. Luckily, because the weather in Bled was just so much better, and so we went to the public beach for a swim, diving 5 meters or even more, you can still see the ground completely clear! Water there is simply amazing, and no doubt, you can drink it without any problems.
In the evening, we went to a restaurant nearby, had some good but pricy dishes and enjoyed after a short rain the warm temperature outside.
Day 4: Finally, a very romantic boat tour
On our previous trips last year, Budapest and Barcelona, we rented a rowing boat, and so finally on the last day just before going back home, it stopped raining just after breakfast when we made us on the way down to the boat rental. The parking is as expensive as renting a boat: 10€.
It was a very romantic atmosphere and someone could use this moment at this scenery for a romantic proposal. Foggy mountains, birds tweeting all around, crystal clear water and the sound from the bells of the church from the middle of the lake. Beautiful.
We had a walk on the island, took a few pictures and finally made us on the "row" back.
It was a wonderful weekend and it is totally recommendable!
#P