"Diva weather, Bummelzug, Nutella & Tzatziki"
Hello there,
this time I (Petra) will do some writing and hope you'll like it. I would like to share with you our experience on our Austrian Vacation in a very nice region in Carinthia and one of its beautiful Lakes – Klopeinersee / Lake Klopein / Klopinjsko jezero.
Here some facts… Lake Klopein:
is 1800 Meters long
is 800 Meters wide
has the deepest depth of 48 Meters
can reach up to 29 Degrees in summer, which makes it one of the warmest lakes in the Alpic region!
We booked this vacation already months before and it was so-to-say our little honeymoon 😊
We stayed from Thursday, June 28th until Tuesday July 3rd in a Guesthouse Sonnblick (affiliate link) near St. Kanzian at Klopeinersee. It is a family-running-hotel and they are very friendly! We booked this place also because of its very good reviews on booking.com (affiliate link), but also because the price was VERY acceptable (5 nights for 2 adults, breakfast, comfortable room with balcony, beach entrance, private parking and the "Active Card Suedkaernten", which offers good discounts on a lot of activities, for 420€ altogether!)!
Our room was comfortable, enough space for our 6 days there (pics below), very clean and a balcony, with a view to the main street/beach/lake. The location was very silent as well, since the party area and main promenade is approximately 15 walking minutes away (it's a very nice way to walk, lots of people, street musicians and different restaurants and shops all way long).
The pillows however were not that comfortable (at least for us they were just too soft and "fluffy").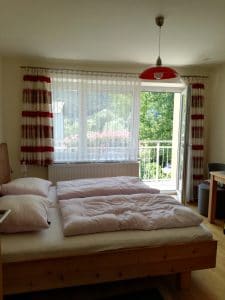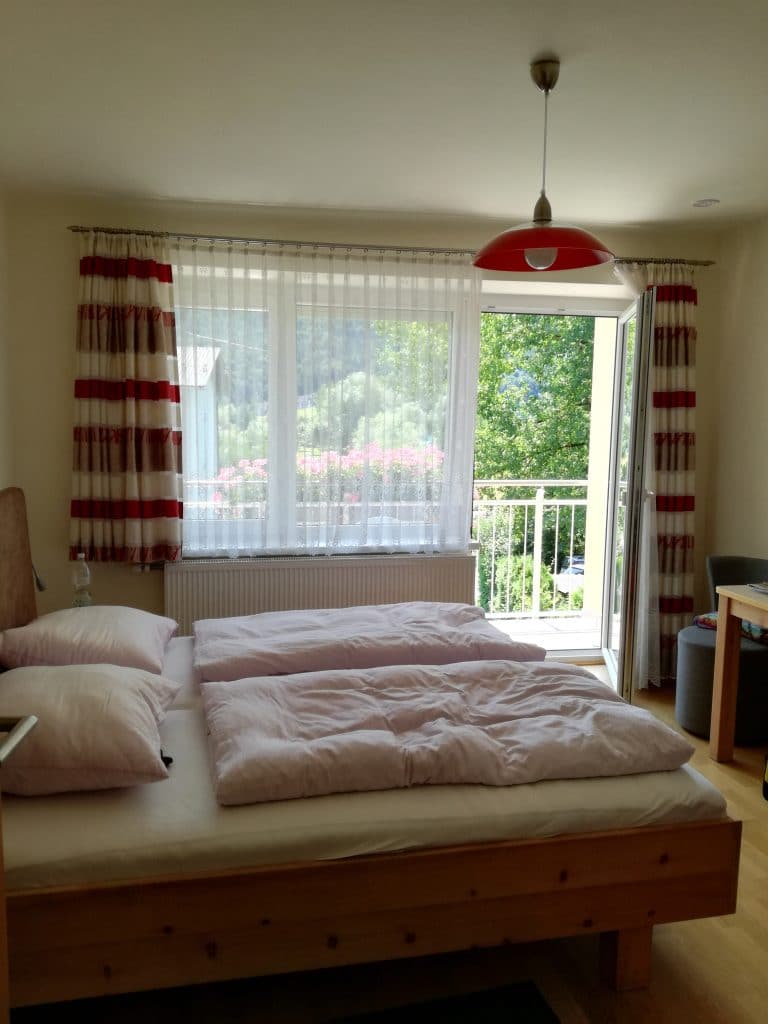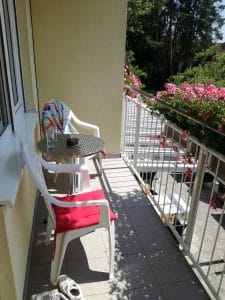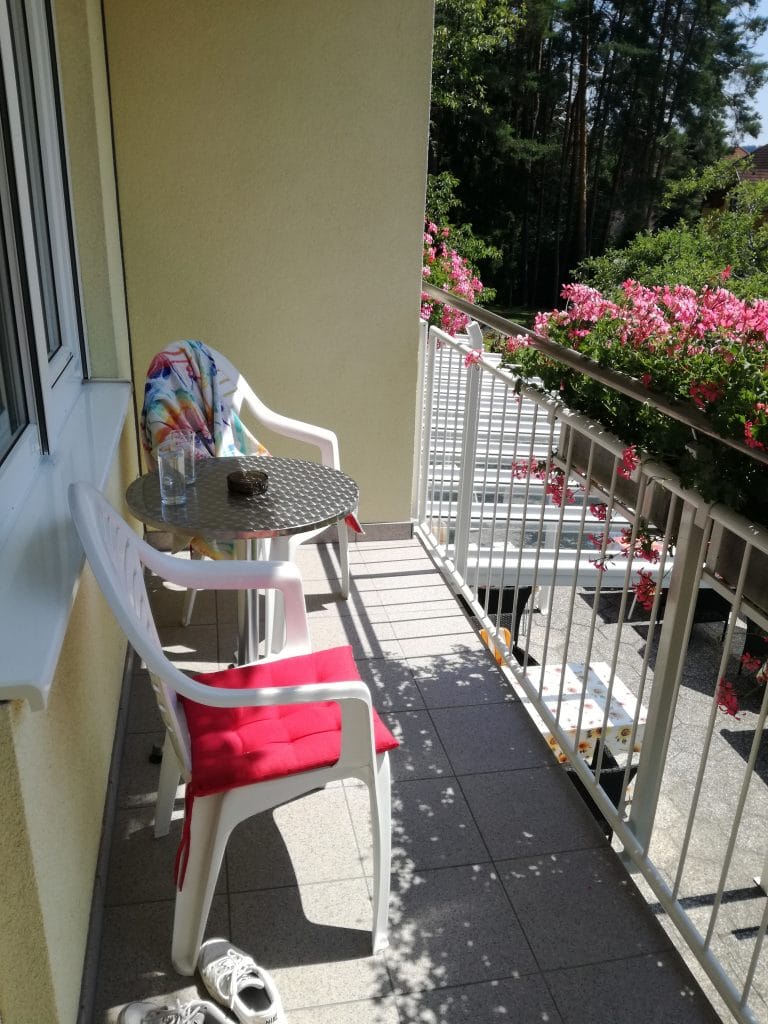 Breakfast was lovely, nevertheless it was very small and the offerings were daily the same. But we never left the table hungry (specially not me and I am 7-months pregnant!?)!
On the first day we arrived, the weather was quite acting like a diva and it was also not as warm as expected (I think it was slightly below 20 degrees), but we did not lose hope so we checked in, unpacked our stuff and wanted to go for a walk "around the lake"… Typically for Carinthia (Austria?), ~80% of the lake – at least at the area we stayed – is private, and the entrance to the different beaches is only for guests of the specific hotel.
Here we had to make a comparism to the Lake Bled in Slovenia, since it has pretty much the same "surface" – flat way and 6km around the lake, BUT there, at least 80% of its shore is public and that really means to "walk around the lake" 😊
So we left the idea to have a nice walk around the Klopeinersee, since you anyway can't really enter it and therefore we only went to the main lake promenade, which is located between Seelach and St. Kanzian. We were really amazed how clean, how peaceful and really nice the surrounding was. Seelach has lots of restaurants and pubs to offer, and since we visited quite a lot of them, all of them offered really good food and the staff was very friendly!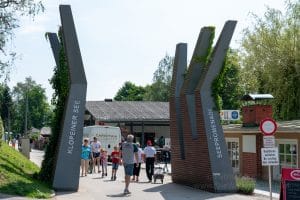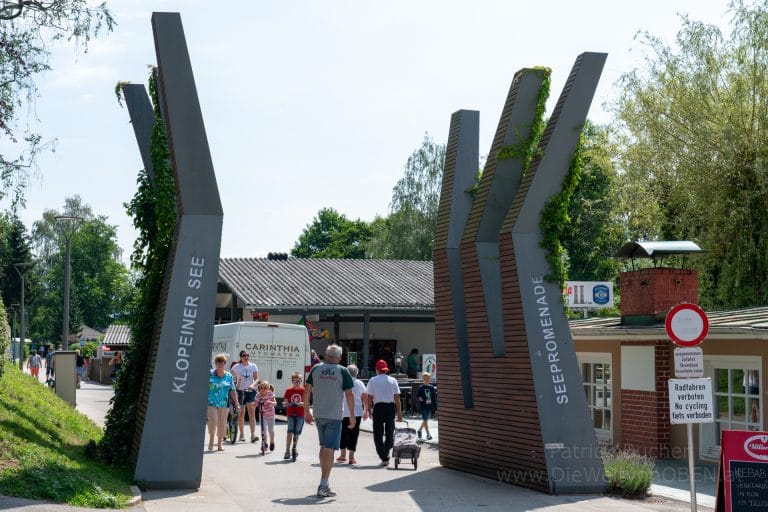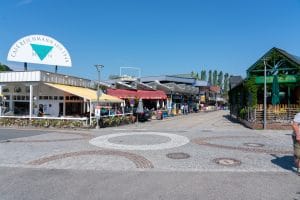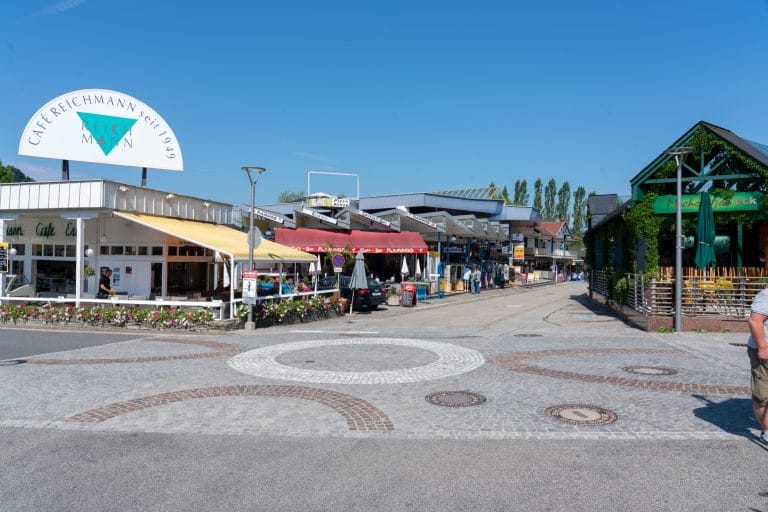 On that day we had a good lunch at Restaurant Mohoritsch – Burger and traditional Kärtner Käsenudeln – both were delicious!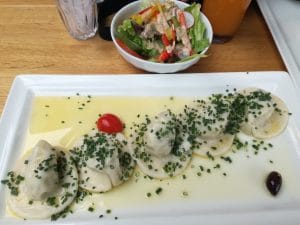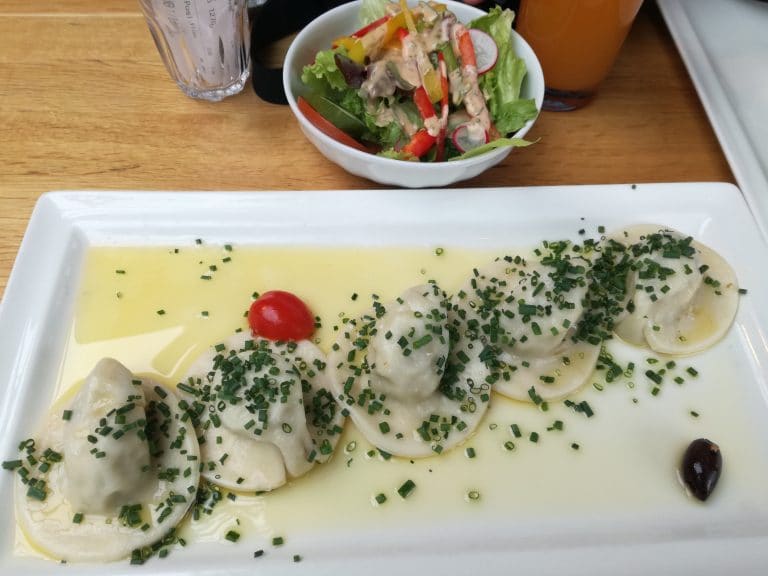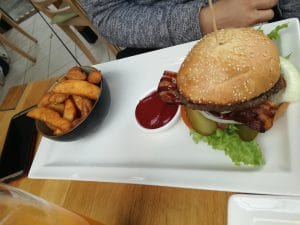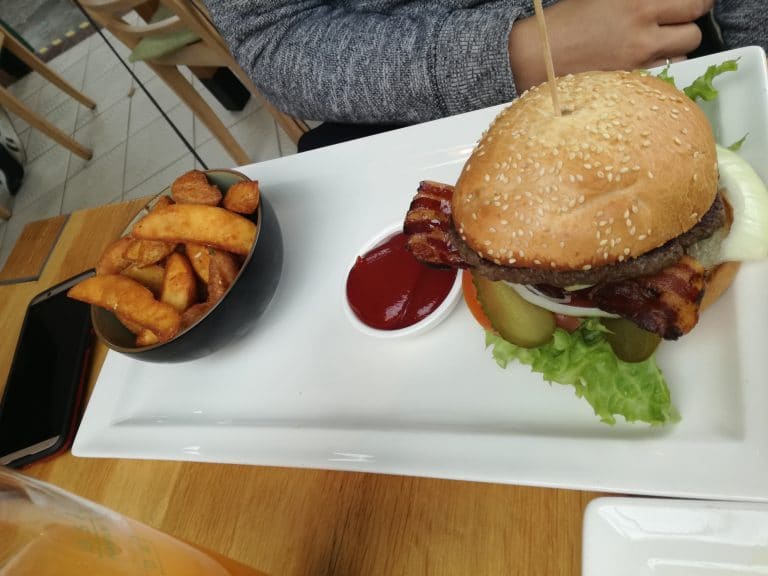 After lunch we headed back towards our Hotel, since Patrick wanted to check the beach at the hotel and to have a swim, no matter what! I was already cold just only thinking about it, but he made it 😊 Water was really warm, warmer than the outside temperature, but still I rather stayed dry outside, while Patrick did his swim.
In the evening we walked to the Promenade again, since there was the Football World cup, and we wanted to see some matches while having few drinks, so we went to the Pub "enJOY" right in the city-center and as the name says, we really enjoyed it! We had a lot of fun watching the game and were entertained by the waitress with funny (=mysterious) trousers, way-to-drunk-but-still-standing-guests and young school groups dancing in the disco and having the time of their lives 😊 There was also live band playing in the middle of all the restaurants/promenade, which was also a very nice experience! It was a lovely evening!
On our second day it was raining and even colder, so we decide to leave the hotel after breakfast and go to the Spa in Villach – exact name is Kärntentherme Warmbad-Villach. Beautifully designed Spa, huge place and VERY warm inside (REALLY warm!). We spend the whole day there and also managed to catch some sun outside in the afternoon, when the sun finally came out. We stayed there from 11am till 7pm, had also lunch, few drinks and ice cream and we spent around 85€. I think the price was OK, since the location is really nice, less people and a lot of things to do – Yes, they also have few water slides which even measure your speed and time AND also the "daily best slide time", which unfortunately Patrick was not able to beat BUT WAS VERY CLOSE and still convinced that it was manipulated 😊 😊 😊 !!!
In the evening we walked to St. Kanzian and had a delicious Pizza at "First Italian Pizzeria in Carinthia" –  Caputo 😊
On Day 3 – Saturday – we decided to use the less-nice-morning-weather and take a ride with one of the "Bummelzug" (see photo below – it is this funny little sightseeing train, mostly meant for kids but fun for adults too 😊). Around St. Kanzian there are apparently two companies that operate those trains, and they are having different time plans and different rides to offer. We wanted to do the 3-lakes-tour; the 3h tour around 3 lakes but on that day, only 1h lake tour around one lake AND a special Wild-animals-park was included. Price: 6€/adult, 4€/Child 2y+
Fact: When you think about Wild-animals-park you have in mind everything else than what we saw there ☹ First of all, the promised "Lake-tour" was everything else but the Lake-tour since we nearly did not see anything of the lake itself (because of the fact described already above) and also we had different expectations while arriving to the famous "Wild-animals-park". Where there were only deers and ducks to see in a family-running-farm where you could buy a 1€ corn pack to feed the animals in order to have them come to you … They also had a small restaurant, where you can get something to eat and drink.
The train-ride was for sure not worth 6€ for an adult, maybe 4€ and 2€ for children, but not more! But we learned our lesson and we went to the beach after while the weather again showed its power (=sun) 😊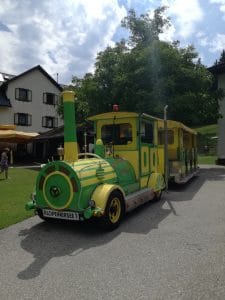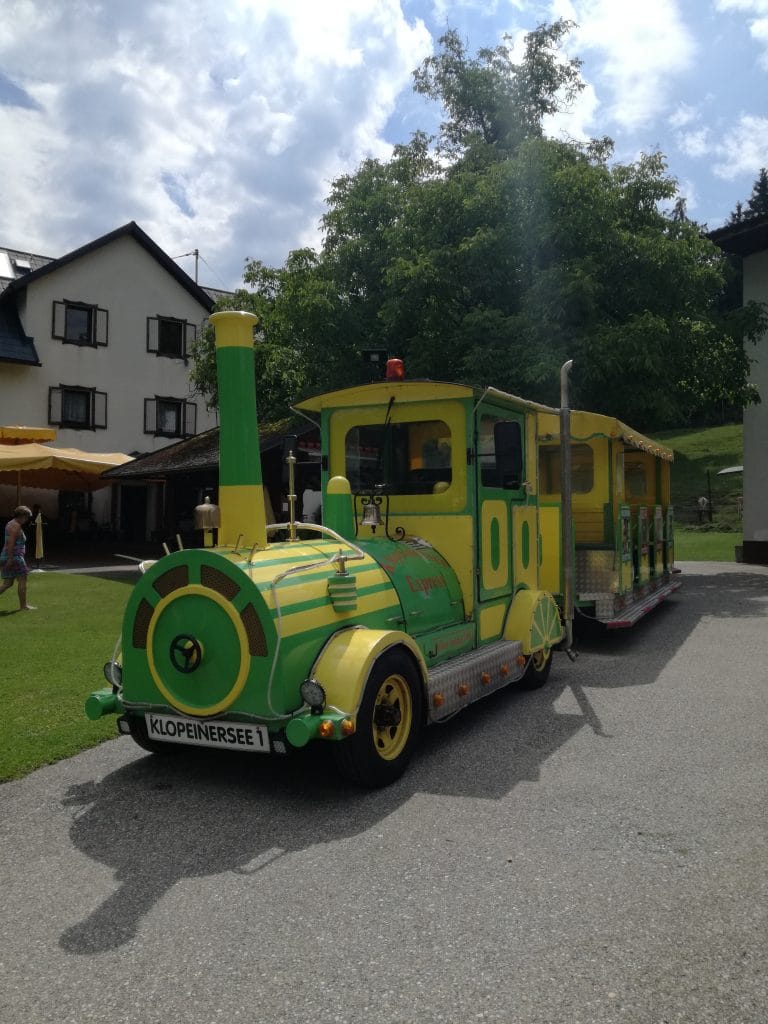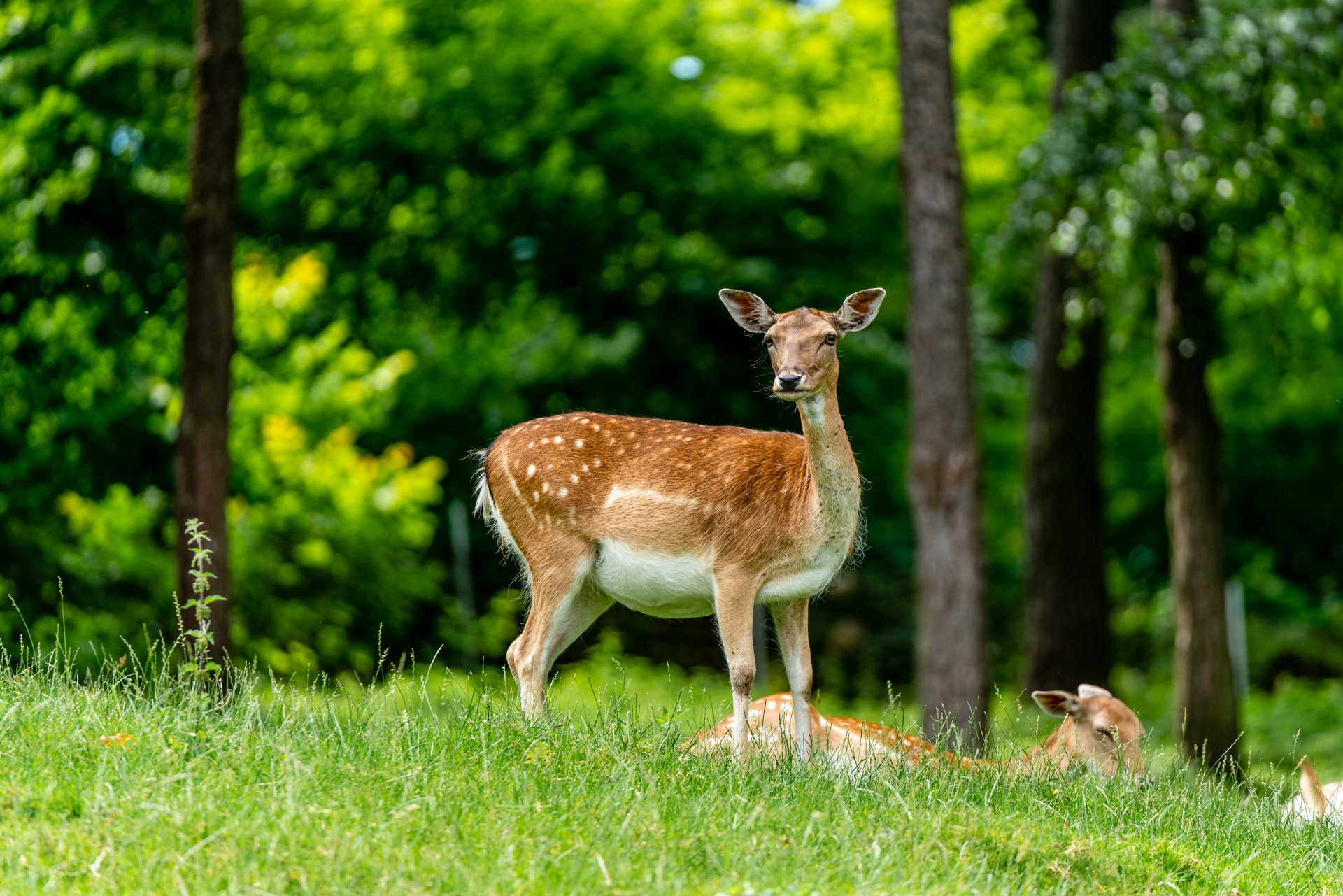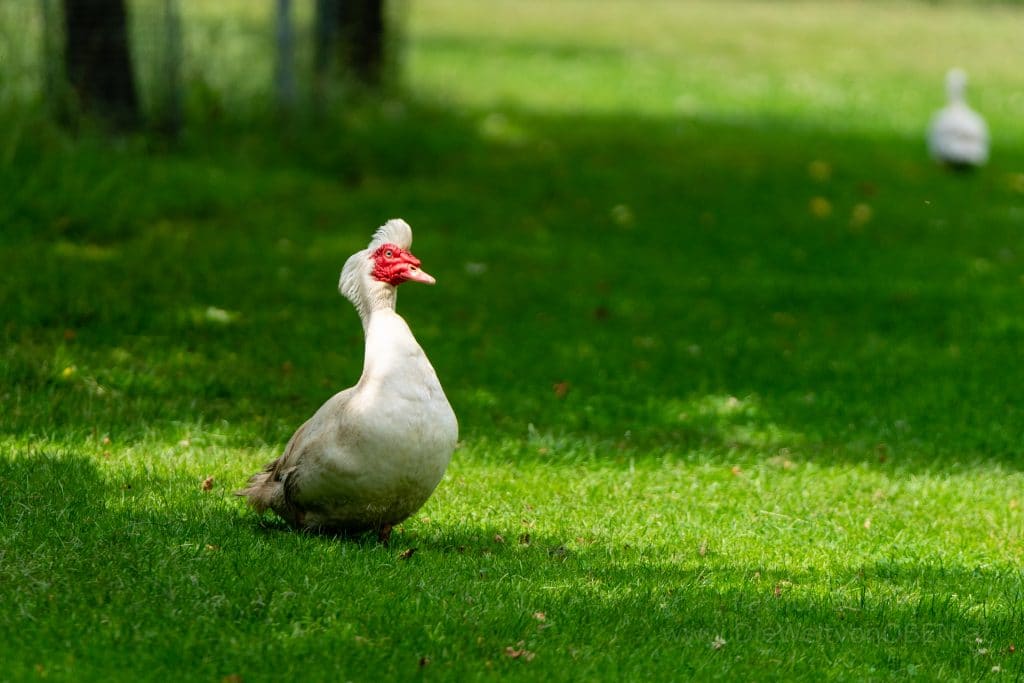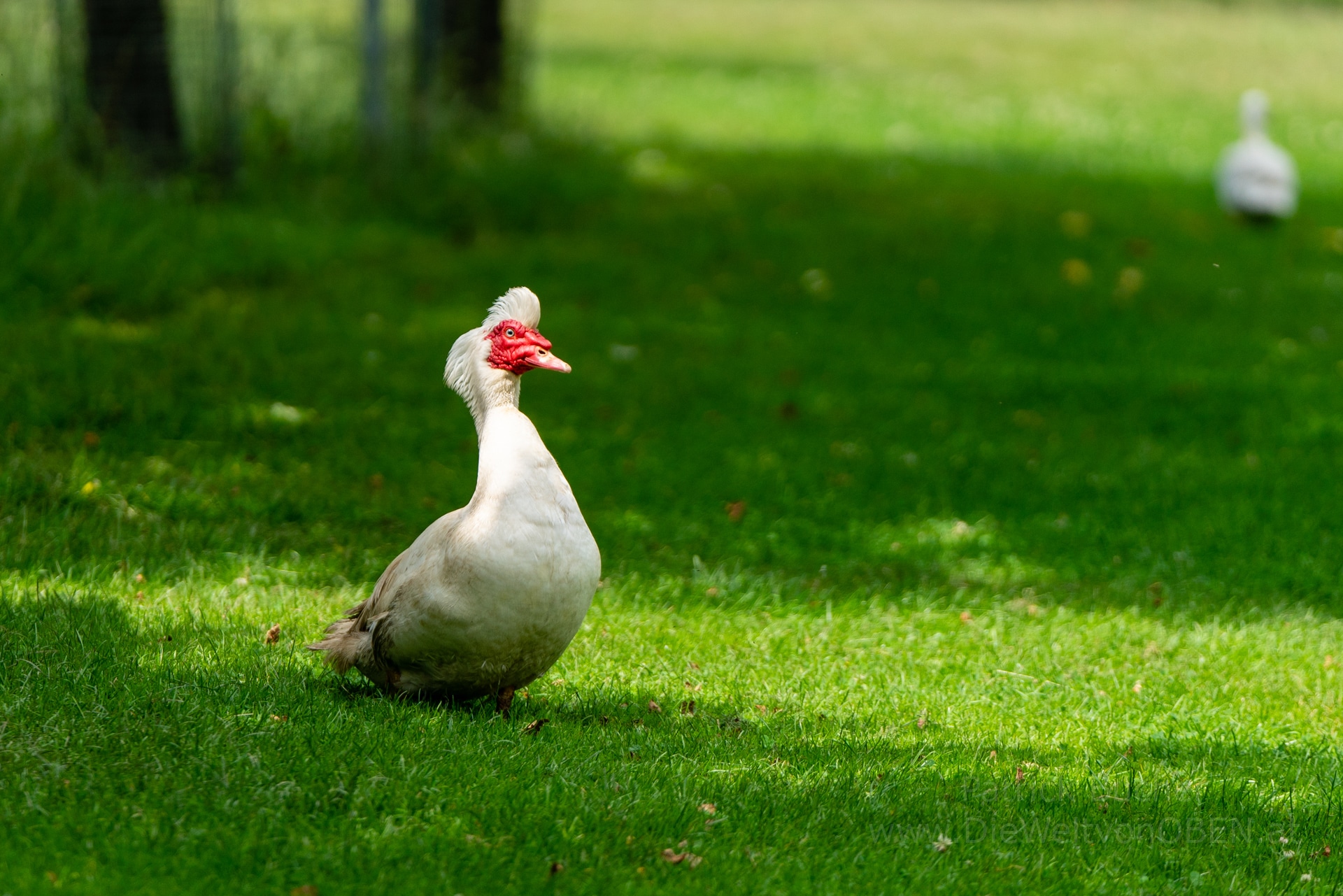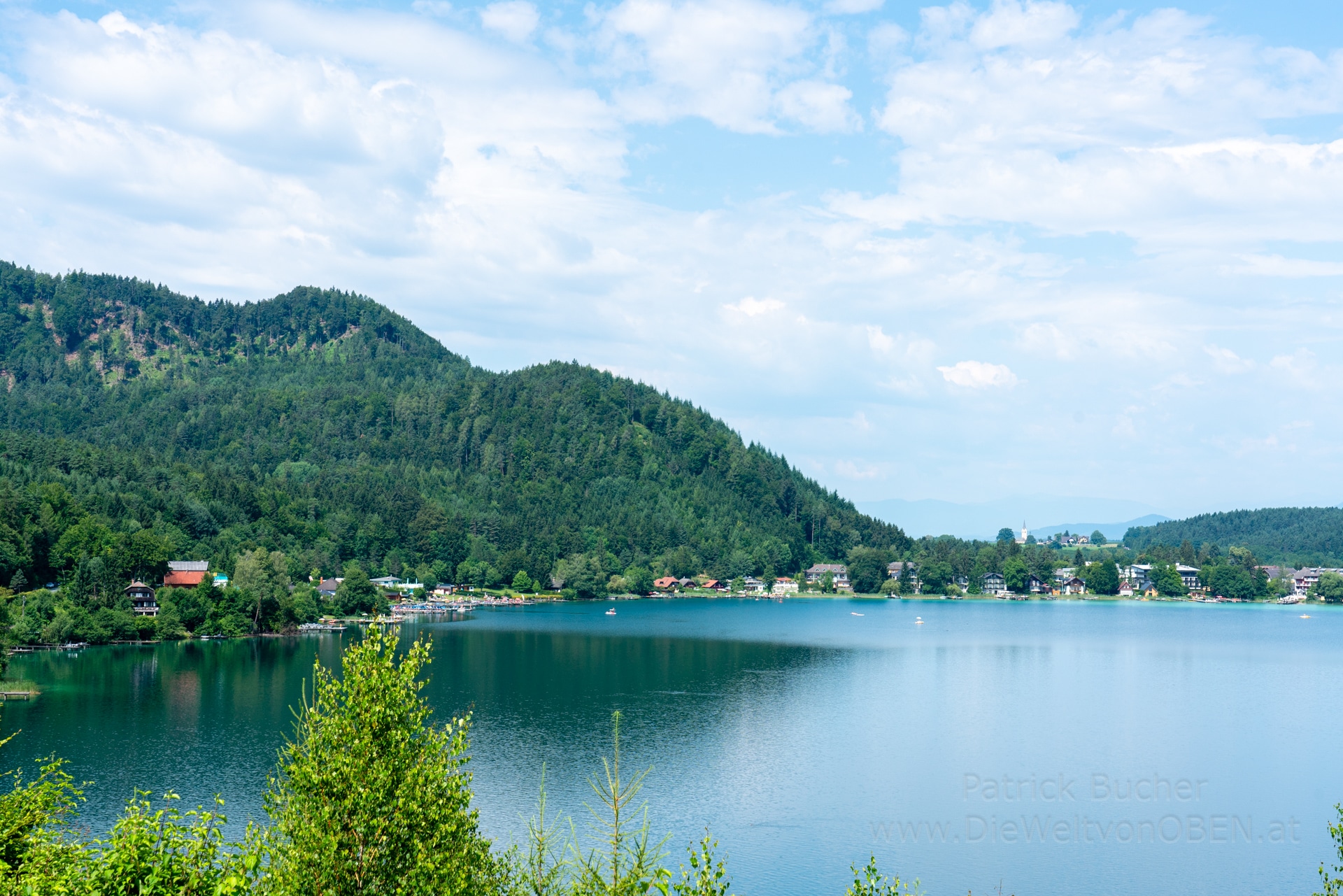 In the evening we went to a fish restaurant at Tainach, not far from our hotel, called "Sicher". We got a voucher from our good friends as a wedding present – "degustationsmenü – food tasting" so we went there with less to zero expectations. Positively surprised by the location and very friendly staff (husband and wife apparently), we were sat outside on a romantic spot in the garden, and started to enjoy our 4-course-menu (+ a starter as a greeting from the kitchen and self-made desert as last surprise, where we thought we can't eat anymore 😊) … Our "food tasting experience" lasted for 3 hours with us being completely amazed by the food and the deserts we were offered there.  Here some pics (not all, since you have to visit to get this experience!)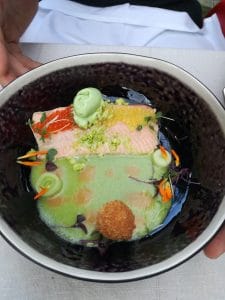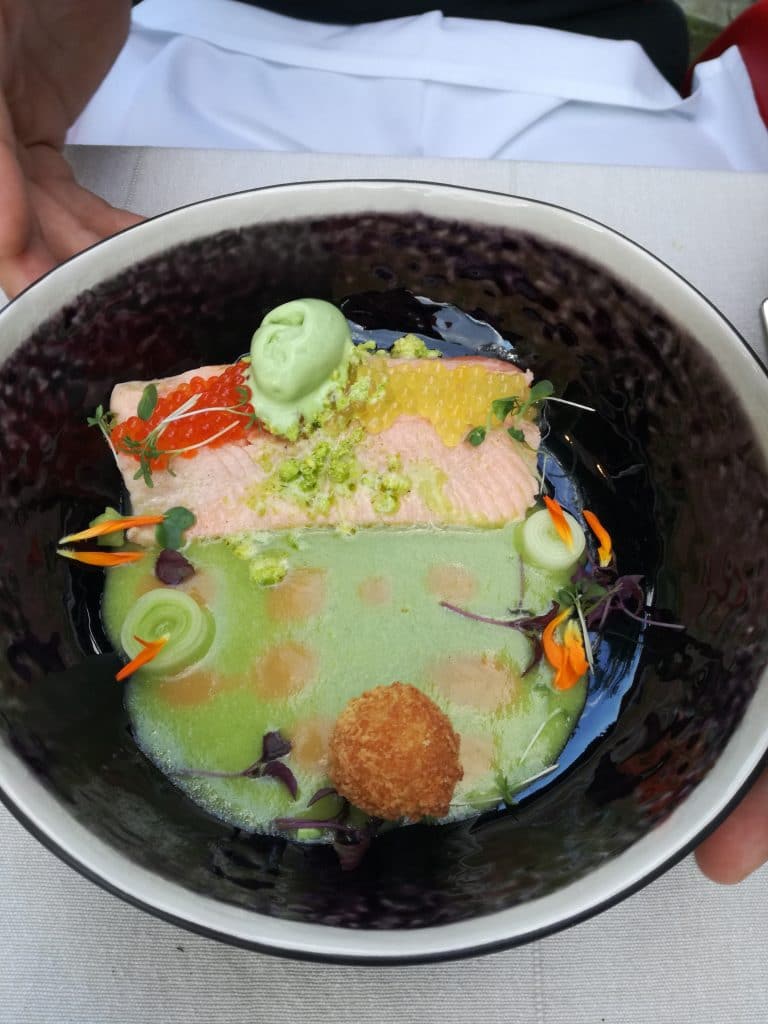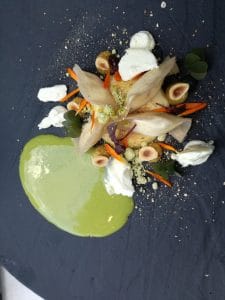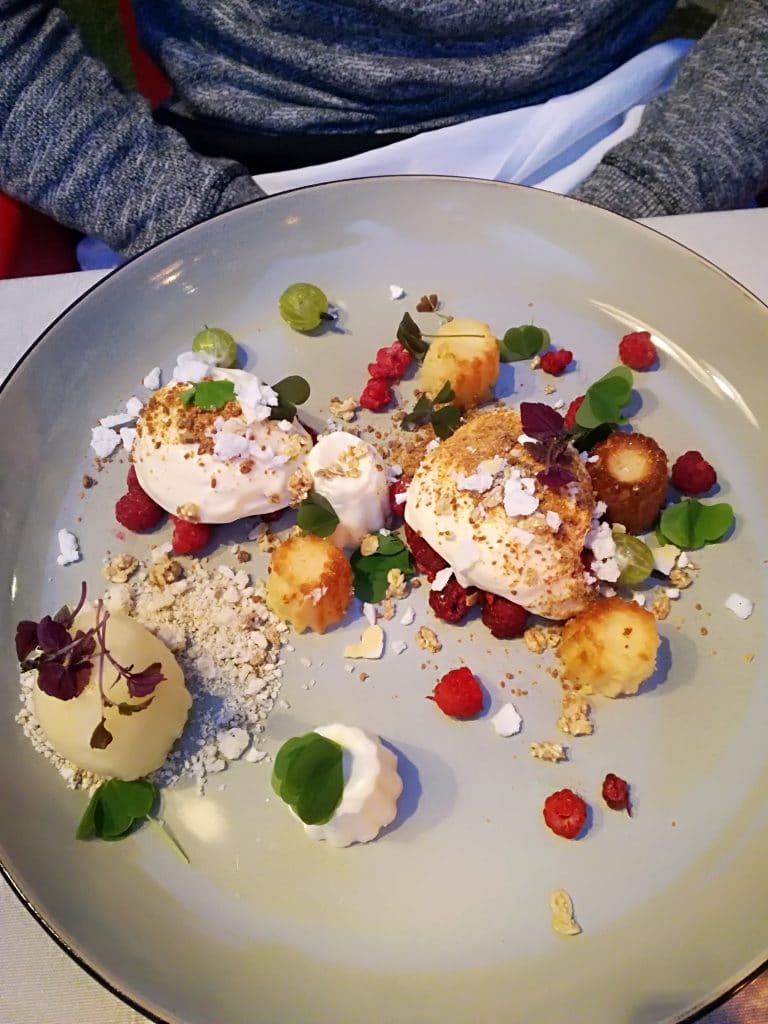 On Sunday (Day 4 of our vacation) the weather was ok-ish in the morning, so we decided to first visit the Waterfall near Klopeinersee (Called Wildensteiner Wasserfall). It took us around 20mins drive to get there and for a photographer (and his/her companion) fully worth it – here some pics!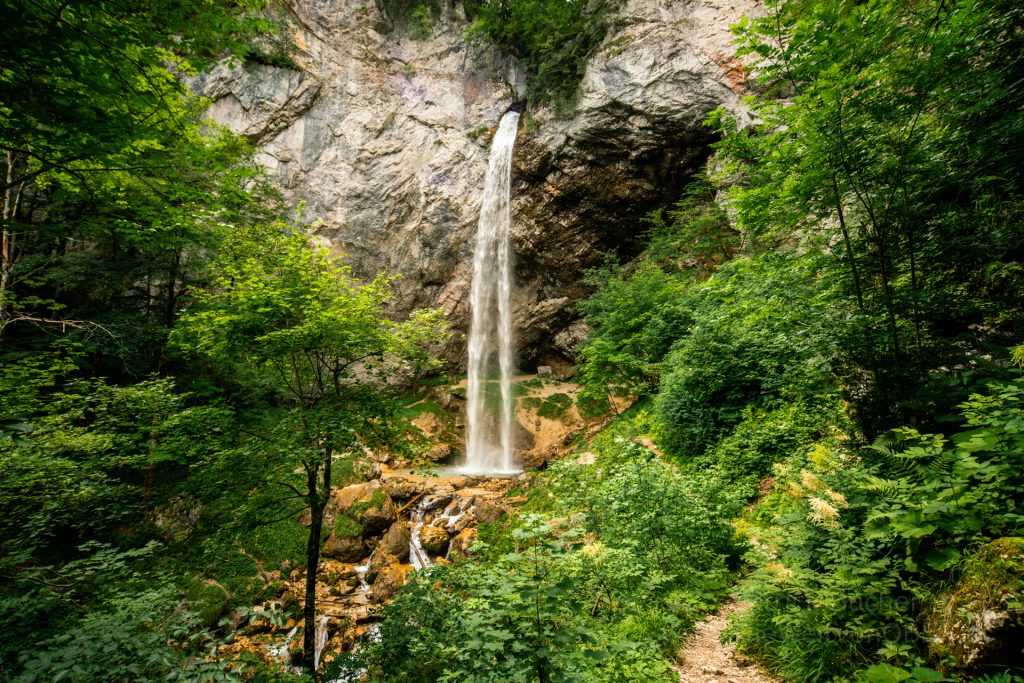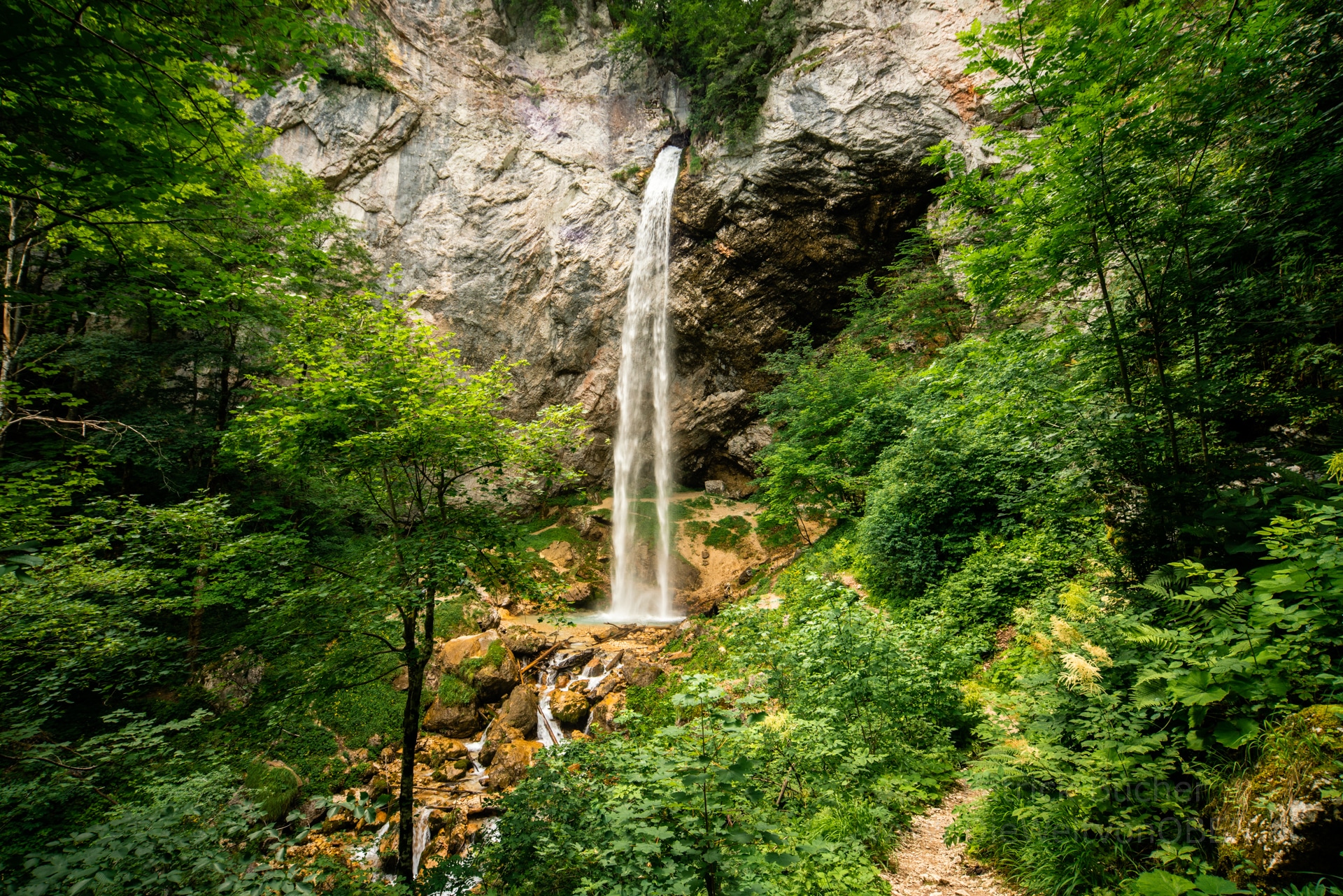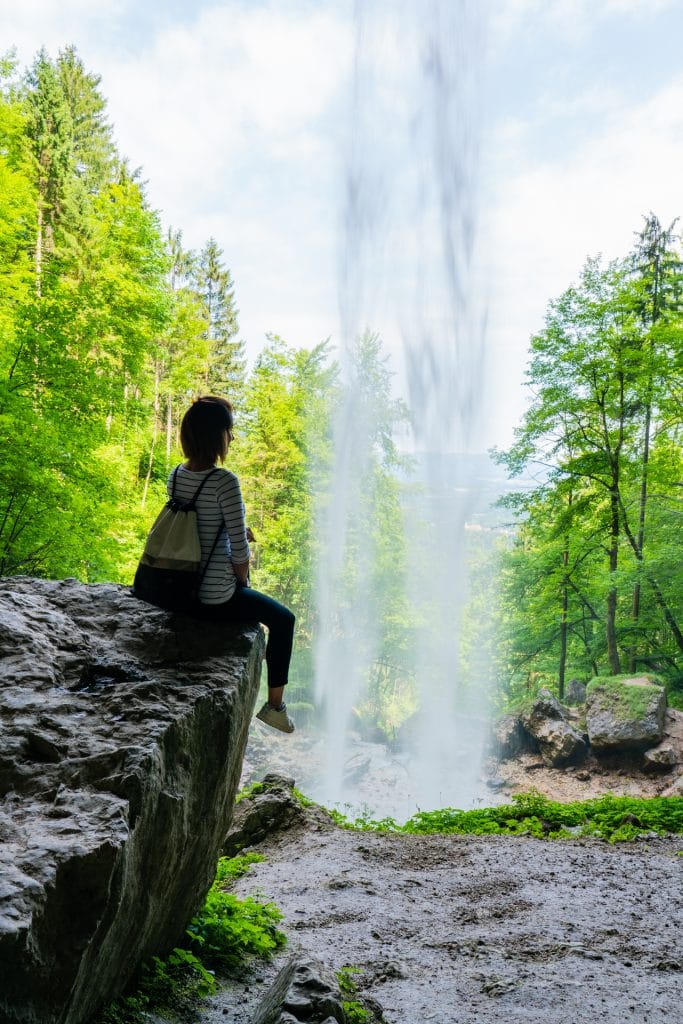 After the waterfall visit we drove back to our hotel and head to the beach.
Here some facts about the beach: To enter the beach property, you need to have a card since this is a private beach – of course (we got our card in our hotel) 😊 This area owns a small restaurant, Toilet, changing rooms and you could also borrow laying beds. There is a huge grass spot for all the guests and also two piers that lead into the crystal clear and green water (which is also drinkable!!!). In the restaurant they offer snacks (from 12h-16h) and drinks and the beach is opened till 19h – you can stay longer though. 😊 The restaurant owns a big terrace so there is enough space for all the guests to sit and relax with the beer (or in my case with an ice coffee) 😊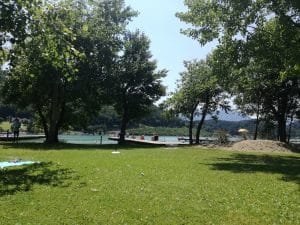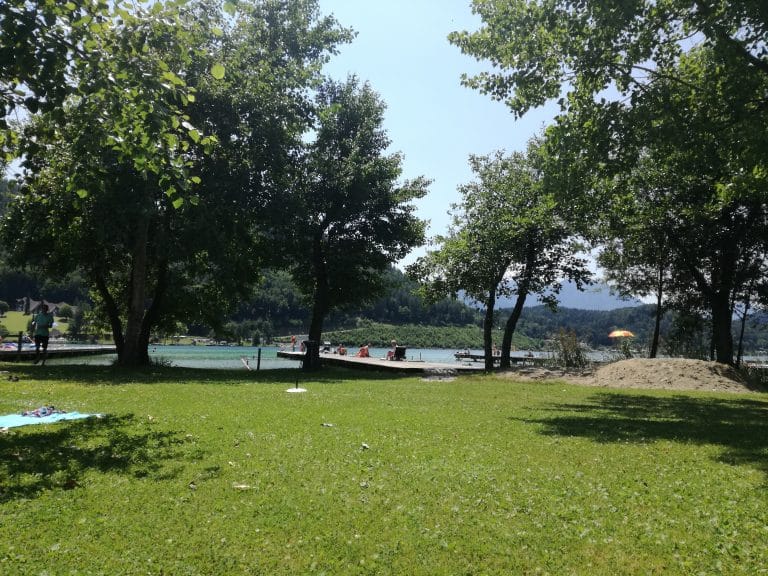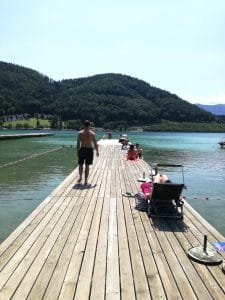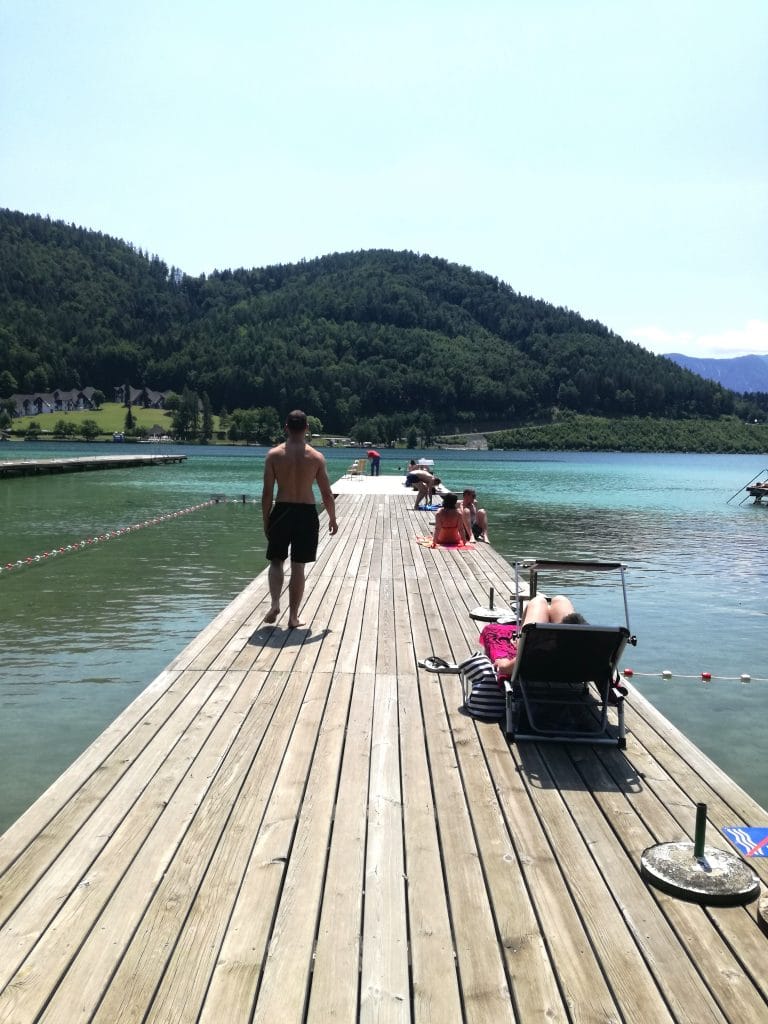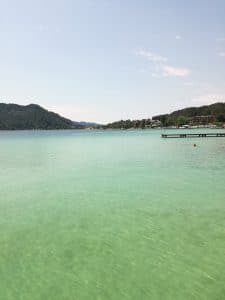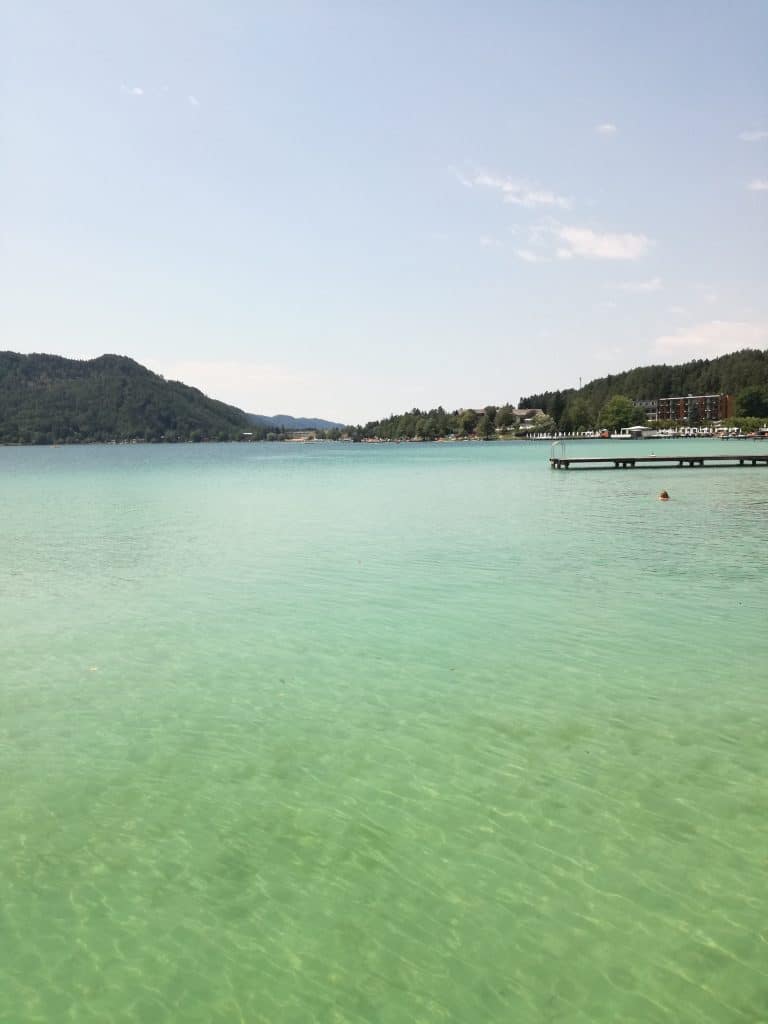 On that day we also rent a Pedalo-Boat with a slide (!!!), for 7€/hour which is affordable! We also wanted to rent a SUP (=stand up paddle), but since it was quite windy, we decided not to do so. The prices vary from 7€-10€ per hour for SUP or Pedalo-boat, it depends where you borrow it.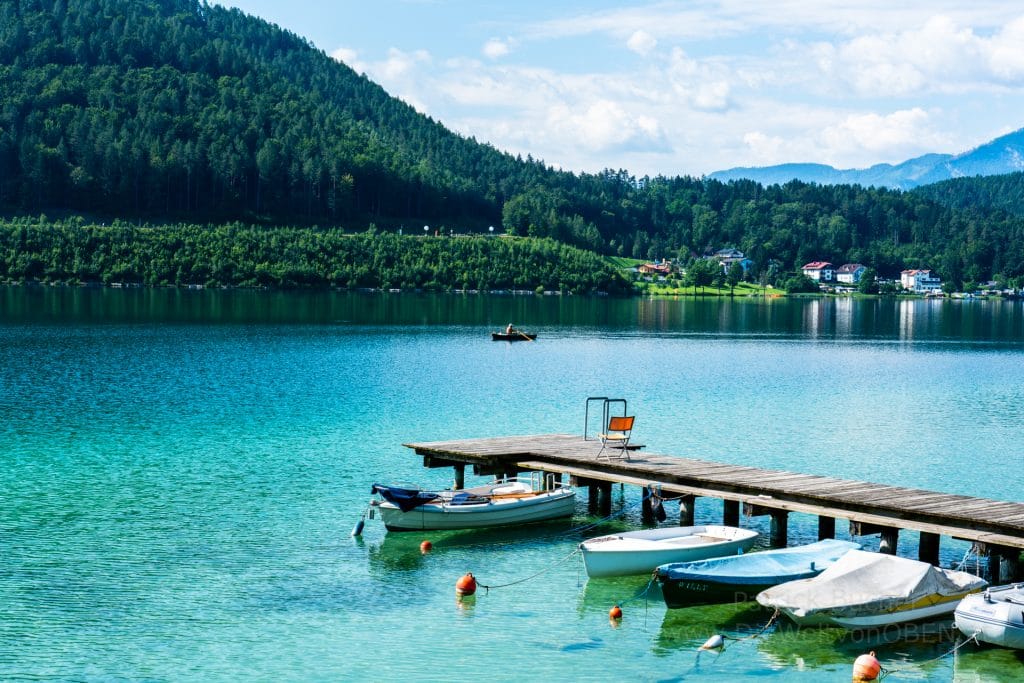 Day 5 started very promising, so we had a big breakfast again (you can never have enough Nutella!) and left for a hike towards to the observation tower – Kitzelberg, 1:30mins walking from our place. The way up was doable, a bit exhausting if you're 7 months pregnant but the view is fully worth it (take water with you!)! See some pics below!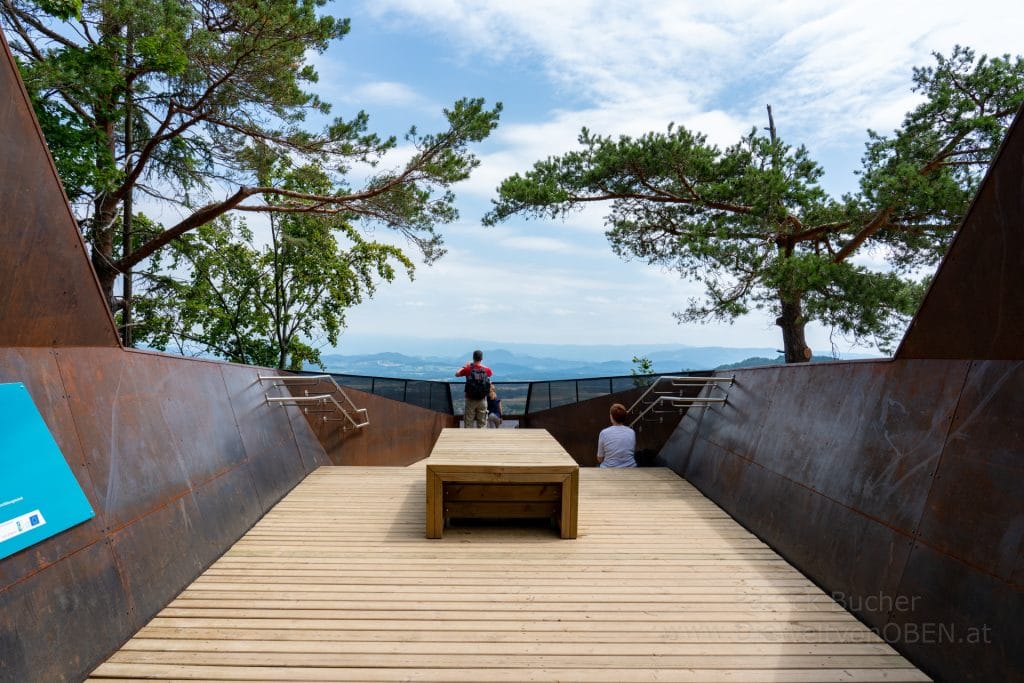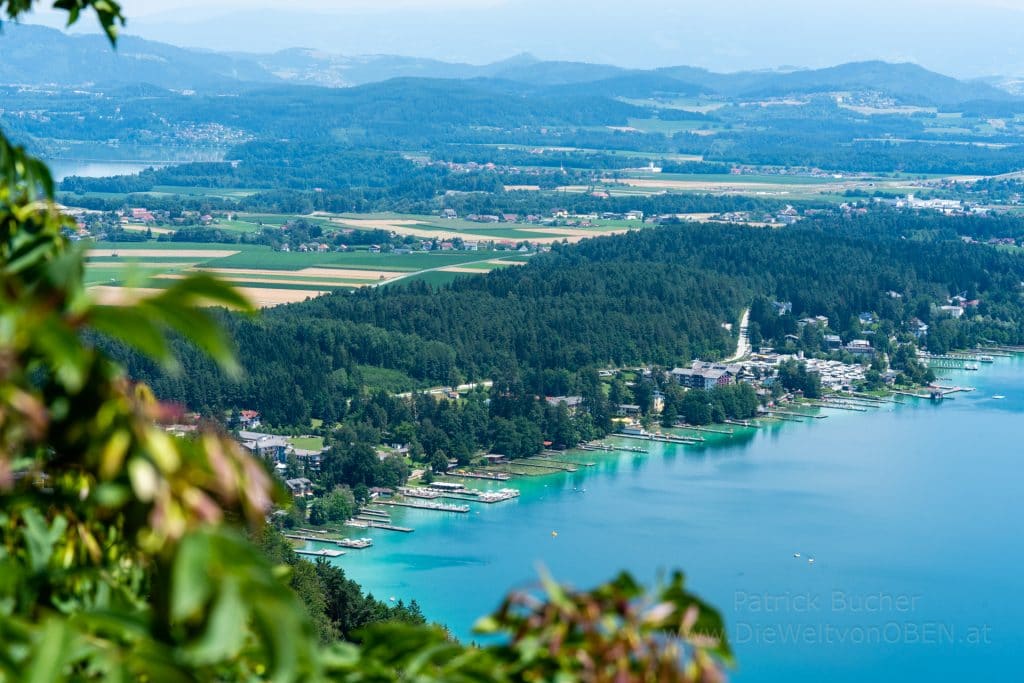 After 3 hours and 10km we arrived back to the city center, had a pizza at this Italian place again and then returned to the hotel and afterwards to the beach. The fact that this was our last day there, made us a bit sad as we wanted to squeeze the most out of the day!
In the evening, after swimming, we decided to walk one last time along the promenade to have a dinner somewhere on the way. This time we decided for a Greek restaurant – Kreta Taverne, which was a great decision! The place was completely full, waiters apologizing that it might take longer than expected since there were a lot of people in the restaurant and they are not McDonalds 😊 Which was fully fine for us. We were sat outside, ordered water and beer and had a nice time together, while being entertained by one particular waiter, which was in a very good mood and you could easily see that he really liked his job (pretty sure he was Greek!).
While waiting for our food, he brought us Ouzo so that our waiting time would pass quickly! He even took pictures with us and congratulated us for our baby-on-the-way and then after 40mins our food arrived (the time really passed quickly). The waiting really paid off! Greeks know how to prepare food, since ours was very nice – I had calamari with potatoes and tzatziki, Patrick had a lamb souvlaki with potatoes and (off course) tzatziki sauce! We also had a desert – typical, 3 yogurt balls with honey & nuts!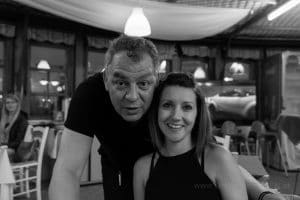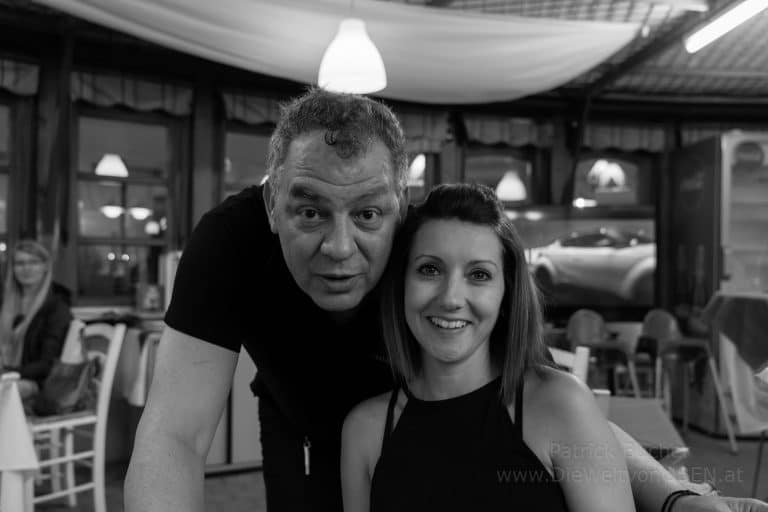 The next morning, our last day, we just had breakfast, packed our stuff, said goodbye to the owners and sadly left Klopeinersee. This vacation was a bit different then we are used to, also because of the fact that the weather was playing a bit with us, so we had to be creative. But it showed up as a very positive thing at the end, since we managed to see/do/visit a lot of nice spots and places and brought lots of nice pictures and lovely memories with us, which we will share with our baby very soon as well.
I hope you enjoyed the reading and happy to hear any feedback 😊
Cheers,
Petra